Community and content manager
YOUR MISSION
The community and content manager will participate in the execution of our communication strategies, including community management, blogging, and coordination of internal and external freelancers in the creation of innovative content.
As a community and content manager you will :
Participate in the execution of our 360 communication strategy including social media, blog, YouTube channel and media relations.
Plan a publishing calendar for our social media and create original posts (Facebook, Instagram, Pinterest, Twitter, YouTube, Linkedin). Engage with our communities of followers and moderate their comments.
Organize contests and " Giveaway " on social networks to promote the brand.
Write promotional newsletters, in-app notifications and engaging copy for our web banner.
Edit and manage our freelance writers to publish high-quality content on our blog and website.
Coordinate internal and external resources to create compelling content for our applications and channels.
Ensure the monitoring and growth of number of subscribers on our social networks to reach quarterly goals.
Actively collaborate with the acquisition, product team and HR in the implementation of communication strategies.
Track our competition and analyse their practice.
PROFILE
You have a Bachelor of communication, marketing communication or journalism;
You have at least one year of relevant experience;
You have expertise in content strategy for social media and you are focused on performance;
You master SEO (asset);
You have excellent writing and copy-editing skills in english, and you have a good knowledge of French;
You are autonomous and able to take creative initiatives;
You are methodical, structured and organized;
You have strong interpersonal skills;
You want to help people improve their level of well-being everyday.
You have experience in public relations (asset).
COMPANY
Ipnos is the creator of Relax Melodies, the app that has received the most positive reviews in the history of the app store, with more than 45 million downloads since its creation. We innovate in the world of sleep and meditation.
Joining Ipnos is making a difference in people's lives by participating in the expansion of a globally successful app, enjoyed by millions of users.
Are you ready to spread wellness across the globe with us?
What we offer:
Evolving as a community and content manager in a multidisciplinary team in a growing company where everyone participates;
Being at the heart of a company that values ​​its users, teamwork, curiosity, intrapreneurship, excellence and creativity;
Apple's latest-generation work tools;
Constructive feedback every quarter;
Flexible work hours and work from home policy
A competitive salary;
Lunch, snacks and refreshments offered free of charge every day;
Prime location in downtown, near subway stations, commuter train, Bixi, shops and restaurants;
20% discount on public transportation tickets;
Garage with bike rack;
Team building activities every quarter;
A meditation session every week (optional)
Video games, ping-pong and babyfoot table;
Competitive holiday policy;
5 sick days;
Group Insurance;
On-site gym and more!
See all our apps : https://www.ipnos.com/apps/
GESTIONNAIRE DE COMMUNAUTÉ ET DE CONTENU
VOTRE MISSION
Dans ce rôle, tu participeras à l'exécution de nos stratégies de communication, incluant la gestion des communautés, le blogue, et la coordination des intervenants internes et externes dans la création de contenu innovant et de qualité.
Plus spécifiquement:
Participe aux stratégies de communication 360 incluant les médias sociaux, le blogue, la chaîne YouTube et les relations avec les médias;
Rédige un calendrier de contenu et anime nos communautés sur les médias sociaux en imaginant des parutions originales et engageantes (Facebook, Instagram, Pinterest, Twitter, YouTube, Linkedin);
Organise des concours et ''Giveaway'' sur les réseaux sociaux afin de promouvoir la marque;
Rédige des infolettres promotionnelles, des alertes de notification dans les apps et des textes engageants pour nos bannières web;
Encadre et supervise le travail de rédaction d'une équipe de collaborateurs externes pour l'alimentation de notre blogue;
Coordonne des ressources internes et externes dans la création de contenu pour nos applications et chaînes;
Veille au suivi et à la croissance du nombre d'abonnés sur nos réseaux sociaux afin d'atteindre les objectifs trimestriels;
Collabore activement avec l'acquisition, l'équipe produit et les RH dans la mise en place de stratégies de communications;
Fait la veille de nos concurrents dans le marché.
PROFIL
Tu possède un baccalauréat en communication, communication marketing ou en journalisme;
Tu as au moins une année d'expérience pertinente;
Tu as une expertise en contenu avec les médias sociaux et tu es axé performance;
Tu maîtrise le SEO (atout);
Tu as une plume impeccable en anglais, et une bonne connaissance du français;
Tu es autonome et capable de prendre des initiatives créatives;
Tu es méthodique, structuré et organisé;
Tu as de fortes aptitudes interpersonnelles;
Tu a envie d'aider les gens à améliorer leur niveau de bien-être au quotidien.
Tu as eu des compétences en relation avec les médias (atout).
L'ENTREPRISE
Ipnos est le studio québécois créateur de Relax Melodies, l'app ayant reçue le plus de reviews positives dans toute l'histoire de l'app store, comptant plus de 45 millions de téléchargements depuis sa création. Nous innovons dans le monde du sommeil et de la méditation.
Se joindre à Ipnos, c'est faire une différence dans la vie des gens en participant à l'expansion d'une app à succès mondial, utilisée par des millions d'utilisateurs.
As-tu envie de répandre le bien-être avec nous ?
Ce que nous offrons:
S'impliquer au sein d'une équipe multidisciplinaire dans une entreprise en pleine croissance où tout le monde participe;
Être au coeur d'une entreprise qui valorise ses utilisateurs, le travail d'équipe, la curiosité, l'intrapreneurship, l'excellence et la créativité;
Des outils de travail Apple de dernière génération;
Du feedback constructif à chaque trimestre;
Beaucoup de flexibilité, du télé-travail;
Un salaire compétitif;
Le déjeuner, les collations et rafraîchissements offerts gracieusement à tous les jours;
Emplacement de choix au centre-ville, près de stations de métro, BIXI, train de banlieue, commerces et restaurants;
20% de rabais sur les titres de transport en commun;
Garage avec support à vélos;
Des activités de team building à chaque quart;
Une séance de méditation par semaine (optionnel);
Espaces jeux vidéos, ping-pong et baby-foot;
Une politique de vacances avantageuse;
5 congés de maladie;
Assurances-collectives;
Gym sur place et plus encore !
Voyez toutes nos apps : https://www.ipnos.com/apps/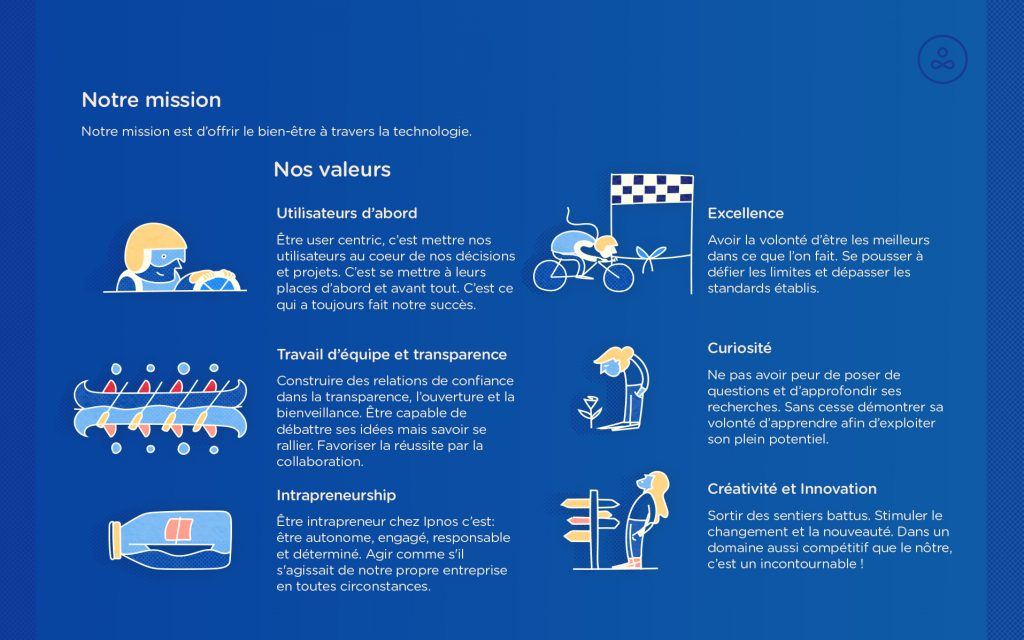 Job Features
| | |
| --- | --- |
| Job Category | Marketing, People |